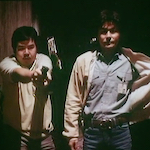 Ronny Yu is a director whose work I've enjoyed since the '90s, when I first saw his beautiful wuxia film THE BRIDE WITH WHITE HAIR. Part of what's interesting about him is that he was so adept at making those lush martial arts fantasies, but he was on a trajectory to come to Hollywood and make something quite different, including two of the more notable and unusual franchise horror films of the late '90s and early 2000s.
But he started out in another place entirely – making raw, low budget Hong Kong cop thrillers like his very-hard-to-find first two films, THE SERVANT (1979) and THE SAVIOUR (1980).
Yu was born in Hong Kong in 1950. He suffered from polio as a child, preventing the type of physical play most kids take for granted, and leading him to retreat into his imagination, especially by watching movies. "In the dark I could forget about my problems. I could forget that I couldn't walk so good," he later said. He attended a boys school in England, and in the '70s he wanted to go to UCLA and study filmmaking. His dad wouldn't pay for that, and told him that to really understand the United States he should live in the heartland. So – figuring commercials were similar to movies – Yu studied marketing and communication at Ohio University in Athens, Ohio, the alma mater of Paul Newman and Richard Dean Anderson. Other filmmaker alumni include Joe Eszterhas and Betty Thomas.
Becoming a director was kind of an accident, and it came, strangely, from being friends with a cop. Philip Chan had been a police officer for around 15 years before working as a consultant (and ultimately co-writer) on JUMPING ASH (1976) gave him the bug to be a movie star. He got a few bit parts, but his dream was to be a leading man in a movie about his experiences as a Superintendent in the Anti-Triad Squad of the Royal Hong Kong Police Force. No one was giving him that role, so he had to create it. (read the rest of this shit…)