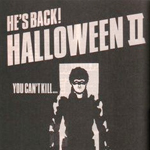 Two years ago, but it seems closer to ten, a nice deputy editor for a new publication approached me to write a piece. He had been reading me forever and was working for this company with a bunch of money invested in it, could pay pretty well and expose me to some new readers not only on the web but a print magazine he compared to Rolling Stone. I said yes and we were going back and forth about what my first piece should be, and then my mom died.
Freelance gigs are usually a little stressful and all-consuming for me, but for some reason I still wanted to do it. Looking back at my emails, I was literally trying to schedule around the days off I had other than the one for the funeral. I agreed to write about the Halloween series, in conjunction with the upcoming David Gordon Green sequel. I watched all ten existing movies (including remakes) and came up with this piece that ties them all together thematically, in places addressing the grief and fears I was dealing with at the time. I took longer than I was supposed to and ended up with twice the agreed upon word count and I was so unsure anybody else would be interested that in my email I said, "If you don't want it I understand, just let me know and I'll use it on outlawvern.com and we'll come up with something else for me to work on for you."
Then the magazine (you will never see this coming) ran out of money, all the editors resigned, I don't believe I ever got paid and the article could only be seen on the Wayback Machine. But I got no regrets because working on this helped me in a tough period of my life and gave me a better understanding of my relationship with the genre. So I'm proud to repost it here.

(I've kept their edits, so you'll notice some British spellings in here.) (read the rest of this shit…)