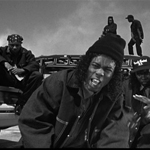 CB4 is the comedic story of a fictional West Coast gangsta rap trio out of not-real Locash, CA. They exist in the same world as N.W.A (Ice Cube and Eazy E both appear as themselves in documentary style interview segments) but also they're kind of supposed to be N.W.A. They dress like them, they have a similar "world's most dangerous group" image, their videos are shot-for-shot imitations of N.W.A videos, and their hit song "Straight Outta Locash" is done over the music from "Straight Outta Compton," but nobody accuses them of being a rip-off. Their song is not as good, in my opinion. They copy Cube's line "Straight outta Compton, crazy motherfucker named Ice Cube" not just once, but before each verse. Watering it down.
One of the more brazen boasts is "I fucked your sister, I fucked your cat / I would've fucked your mom but the bitch is too fat," which is absurd enough, sure, but it's not as deviously clever as Eazy's actual line, "Straight outta Compton / is a brother that'll smother your mother / and make your sister think I love her."
One difference from N.W.A: they don't have an exploitative white manager from outside the world of hip hop. They have Trustus (Willard E. Pugh, THE COLOR PURPLE, ROBOCOP 2).
Another one: these guys aren't exaggerated characters based on their real lifestyles. They're straight up phonies dressing up like gangstas as a gimmick after their corny Native Tongues copycat act didn't catch on. And they, uh, pretend they were in prison, which they weren't , and that gets them into some awkward situations. Hmm. (read the rest of this shit…)