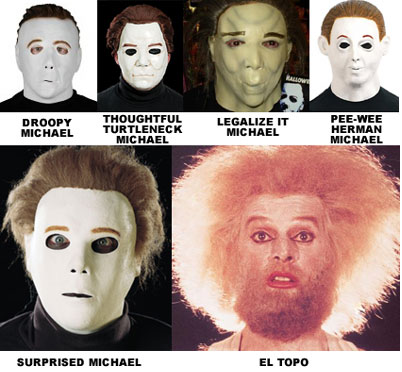 A new publication called Drugstore Culture recruited me to write some stuff for them, so over the past month or so I rewatched the entire HALLOWEEN series (including the two Rob Zombie ones) and wrote about it as a whole.
This is pretty different from my usual approach. I tried to dig non-judgmentally into the symbols of each chapter (even RESURRECTION!) to find deeper meaning we can apply to our current world or to things I've been going through in my life. I was surprised how much I found in III and 6, actually. It's kind of a weird piece I think but perhaps obsessive in an unusual way, and hopefully some of you will like it.
By the way, I filed this before seeing the new one, so the bad news is I should've added a few lines about it, the good news is there are no spoilers for that particular one. Just ten other movies.
READ "THE SHAPE OF EVIL: CONFRONTING DARKNESS THROUGH THE 'HALLOWEEN' SERIES" ON DRUG STORE CULTURE
UPDATE:
They ran out of money before paying me and the websight isn't even there but here it is on archive.org:
https://web.archive.org/web/20190121034337/https://drugstoreculture.com/halloween-movies/