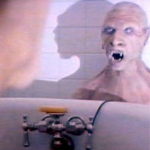 Sometimes you want a great Christmas movie, sometimes you want ELVES. This is a crappy still-only-on-VHS one, but it's pretty fun. Two things you should know:
1. The title is completely fraudulent. There's only one elf in it.
2. It's a pretty different interpretation of elves from ELF or something like that. In this version he has nothing to do with helping Santa Claus. He's a monster created by Nazi occultists to mate with a human and create the master race. On Christmas.
Our heroine is Kirsten, played by Julie Austin (EXTREME JUSTICE, TWISTED JUSTICE [that's two titles, although it would also be cool as one title]). She's either a teenager or a young adult who's a waitress at a department store "snack bar," hates Christmas and wants it to snow. She doesn't know that her grandfather (Borah Silver, BLUE COLLAR, ESCAPE FROM NEW YORK) is a Nazi who buried an elf out in the woods and also is her father and that she was inbred to be "perfect" because she's the one who's supposed to mate with the elf on Christmas Eve. Which are all things that are important to know. (read the rest of this shit…)