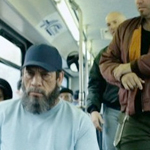 When BAD ASS came out in the summer I took a look at it and considered it, because it's that rare Danny Trejo starring role we've always wished for. But the title and the tagline "They messed with the wrong senior citizen" made me think it was another one of these post-GRINDHOUSE neo-Troma type tongue in cheek movies that I'm not really interested in. And then I looked up director/co-writer Craig Moss and learned that the rest of his filmography is:
1. SAVING RYAN'S PRIVATES (not a porno, but way worse – a parody)
2. THE 41-YEAR OLD VIRGIN WHO KNOCKED UP SARAH MARSHALL AND FELT SUPERBAD ABOUT IT (a parody of comedies?) and
3. BREAKING WIND (TWILIGHT parody with farting).
This was before his next movie was listed, it's gonna be 30 NIGHTS OF PARANORMAL ACTIVITY WITH THE DEVIL INSIDE THE GIRL WITH THE DRAGON TATTOO. So not only did I put BAD ASS back on the shelf, but would've reconsidered everything I believed about civil liberties if given an opportunity to deport Craig Moss just for making up those titles. And what, I'm supposed to believe this guy has no friends or family who could intervene and tell him to have some fucking dignity as a human being and stop making those? Come on, people. You're just as culpable in this SARAH MARSHAL IS SUPERBAD fiasco as he is. If you see something, say something. What did you know and when did you know it. All that is necessary for the release of BREAKING WIND is that good men do nothing.
But a buddy said BAD ASS was pretty good, so now I watched it.
(read the rest of this shit…)