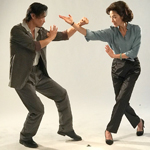 MASTER Z: THE IP MAN LEGACY is the new film directed by Yuen Woo-Ping, a spinoff of IP MAN 3, which he was the choreographer for. It will make sense even if you haven't seen that or the rest of the IP MAN series, though you should see them anyway, because they're great. Donnie Yen is a producer of this one, but doesn't appear other than in brief black and white flashes to establish the backstory.
In the tradition of UNDISPUTED II and III, MASTER Z takes the antagonist from the previous film and makes him the hero. Max Zhang (the main henchman from KILL ZONE 2) returns as Cheung Tin Chi, which I guess must sometimes be translated as Zheung, otherwise I have no idea why this is called MASTER Z. He was a younger teacher who defeated the great Wing Chun Grandmaster Ip Man in a public challenge, became legendary himself, but got too big for his britches and was ultimately defeated in a private challenge. Now he's left martial arts – including turning down what could be well paying gigs as an enforcer – and runs a small grocery store. (read the rest of this shit…)
VERN has a new action-horror novel out called WORM ON A HOOK! He has been reviewing movies since 1999 and is the author of the film criticism books Seagalogy: A Study of the Ass-Kicking Films of Steven Seagal and Yippee Ki-Yay Moviegoer!: Writings on Bruce Willis, Badass Cinema and Other Important Topics as well as the crime novel Niketown.