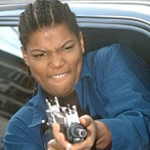 Long before he directed the new biopic STRAIGHT OUTTA COMPTON, F. Gary Gray was already linked to members of N.W.A. He'd directed the video for the Ice Cube classic "It Was a Good Day" (1992), and later the action-movie-inspired "Natural Born Killaz" by Dr. Dre and Ice Cube (from the soundtrack to MURDER WAS THE CASE). When Gray started in features it was with Cube, who wrote, produced and starred in FRIDAY. And he also did the video for Dre's "Keep Their Heads Ringin" from that soundtrack.
So in '97, when he did his first action movie, he cast Dre in a small role as Black Sam, an underworld figure who provides guns for the protagonists, an all female crew of bank robbers.
Hear me out on this, but I do not consider N.W.A to be super respectful of women. Their songs talked endlessly about the bitches and/or hoes. FRIDAY also did some of that, in arguably a more playful way. The men are all doofuses, but Nia Long and Regina King aren't, so you can't take it completely seriously. But there's a whole lot of humor about the women they do or don't want to get laid by, and one hilariously has as her theme song "Hoochie Mama" by 2 Live Crew. "Big booty hoes – up wit it!"
So with that in mind it's pretty cool that Gray's second movie has an entirely female POV. (read the rest of this shit…)
VERN has a new action-horror novel out called WORM ON A HOOK! He has been reviewing movies since 1999 and is the author of the film criticism books Seagalogy: A Study of the Ass-Kicking Films of Steven Seagal and Yippee Ki-Yay Moviegoer!: Writings on Bruce Willis, Badass Cinema and Other Important Topics as well as the crime novel Niketown.