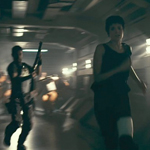 LOCKOUT is pretty much what I hope for from a Luc Besson production: solid b-movie fun, good gimmicks, good energy. But unlike the B13s or the TRANSPORTERs or the TAXIs or the YAMAKASIs it's not the action that's the highlight, this is more of a character and concept driven entertainment.
You could say the same about TAKEN, 'cause it's a post-action mess made palatable by Liam Neeson getting to play a black ops hardass with a straightforward, personal goal. Like TAKEN, this has Maggie Grace playing an abducted daughter who has to be rescued (this time the president's daughter taken hostage on a low orbit maximum security prison/space station). But it's not the SPACE-TAKEN I was expecting, because the tone is completely different. The biggest surprise and the best part of the movie is that Guy Pearce as Snow, who has to rescue her, is a total smartass. He speaks mostly in quip, and successfully so, always keeping the movie fun instead of being annoying like could sometimes happen. The movie around him takes itself seriously, but he refuses to follow its lead.
(read the rest of this shit…)
VERN has been reviewing movies since 1999 and is the author of the books SEAGALOGY: A STUDY OF THE ASS-KICKING FILMS OF STEVEN SEAGAL, YIPPEE KI-YAY MOVIEGOER!: WRITINGS ON BRUCE WILLIS, BADASS CINEMA AND OTHER IMPORTANT TOPICS and NIKETOWN: A NOVEL. His horror-action novel WORM ON A HOOK will arrive later this year.