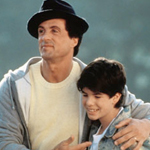 I think ROCKY V is the least enjoyable of the ROCKY pictures, but I admire its intentions. This is actually my first time watching it, and maybe it plays better when you watch them all close together. I know it was poorly received when it came out, and I'm sure some people were confused that it wasn't more of the mountain-conquering commie-smasher Rocky had turned into when we last saw him five years earlier. But like I said, the ROCKY series evolves with the times. Allow me to submit to you an acknowledgment that appears on the end credits:
"We wish to express our gratitude to the Soviet government for granting us the use of their Aeroflot jet."
With Reagan and the Cold War in the rear-view mirror and Survivor on indefinite hiatus, Stallone decided to shed some of the '80s-style excess of the last two sequels. The world had changed again. People didn't even care about Rambo anymore. Stallone's last movie had been TANGO & CASH, which did okay, but was a troubled production and got poor reviews. He was obviously itching to try something different, because he followed ROCKY V with OSCAR and STOP! OR MY MOM WILL SHOOT. But first he felt it was time to put the tiger jacket in the closet and bring back the underdog. This was his first attempt, before ROCKY BALBOA, to go back to Rocky's roots as well as to deal with his advancing age. (read the rest of this shit…)
VERN has a new action-horror novel out called WORM ON A HOOK! He has been reviewing movies since 1999 and is the author of the film criticism books Seagalogy: A Study of the Ass-Kicking Films of Steven Seagal and Yippee Ki-Yay Moviegoer!: Writings on Bruce Willis, Badass Cinema and Other Important Topics as well as the crime novel Niketown.