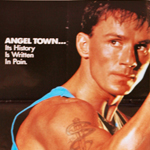 "Jacques, as long as I've known you you've been in deep shit. I expect this."
Even though I have this weird feeling that French kickboxing champion turned VHS-era action icon Olivier Gruner doesn't like me, I'm open to watching his movies. I actually didn't realize while watching it that ANGEL TOWN was his debut, but it makes sense. This is his L.A. gang movie, which came out after COLORS but before BOYZ N THE HOOD or MENACE II SOCIETY (or New York movies like NEW JACK CITY and JUICE). And I'm not saying it's as good as any of those, but it's a fun b-action take on the subject, and it makes a decent argument for why Gruner should be in movies.
He plays Jacques, a Frenchman renting a room in a gang neighborhood while attending graduate school in East L.A. He ends up there because he gets into town late and all the student housing is filled up, but also we learn he was born in a French ghetto and lived in one in Hong Kong too. It's not relevant, but I want to mention why he's late to school: when he was about to leave he went to visit his father's grave and then his girlfriend showed up distraught that he was leaving and she took off her fur coat and she was naked so he fucked her right there on his father's grave. And that must've taken a couple days, I don't know. (read the rest of this shit…)
VERN has been reviewing movies since 1999 and is the author of the books SEAGALOGY: A STUDY OF THE ASS-KICKING FILMS OF STEVEN SEAGAL, YIPPEE KI-YAY MOVIEGOER!: WRITINGS ON BRUCE WILLIS, BADASS CINEMA AND OTHER IMPORTANT TOPICS and NIKETOWN: A NOVEL. His horror-action novel WORM ON A HOOK will arrive later this year.