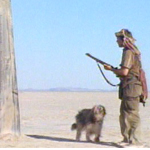 A BOY AND HIS DOG is a strange, scrappy post-apocalypse tale directed by character actor L.Q. Jones (HANG 'EM HIGH, LONE WOLF MCQUADE), based on a 1969 novella by Harlan Ellison. Don Johnson (COLD IN JULY) is the boy, Vic; a dog is the dog, Blood. Blood talks but his mouth doesn't move, we just hear his tired, tinny voice, so at first I thought he had a machine attached that broadcast his thoughts. But actually they communicate telepathically, so that when other people are around he Vic seems like a crazy person talking to his dog. Blood reminds me of Teddy in A.I., but meaner and more cynical. And they do a good job of matching up the dog footage to imply attitude and emotion in his body language that probly isn't really there.
It's a dangerous world, and they're constantly on the run. Blood's job is to sniff for approaching enemies. Vic's is apparently to find a woman to rape. He has a hard time getting up the nerve to go through with it, though, and Blood nags him about it. I thought the worst thing about dogs was that they eat cat poop out of the litter box and then jump up in your lap and lick your face and try to pass that off as affection. It turns out it goes deeper. (read the rest of this shit…)
VERN has a new action-horror novel out called WORM ON A HOOK! He has been reviewing movies since 1999 and is the author of the film criticism books Seagalogy: A Study of the Ass-Kicking Films of Steven Seagal and Yippee Ki-Yay Moviegoer!: Writings on Bruce Willis, Badass Cinema and Other Important Topics as well as the crime novel Niketown.