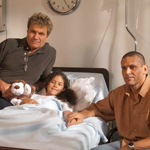 BEYOND THE RING is an amateurish underground fighting drama allegedly based on a true story and starring the Brazilian Taekwondo Grandmaster Andre Lima as himself. Depending on what parts of it are true it's a deeply personal story and/or a weird vanity project.
In the movie Andre is a Taekwondo instructor (at one of his actual L.A. area schools it looks like), a widower and single father of teenage son Joseph (Joseph Nerlinger) and pre-teen daughter Jessica (Aycka Lima). He stopped competitive fighting after his wife's death and gets real stubborn when his brother-in-law Patrick (Martin the bad guy in KARATE KID Kove) comes around trying to make sure he's taking care of the family well and what not.
The hook is that one day Andre finds out his daughter has a brain tumor, and his insurance doesn't cover her surgery, so he ends up taking an underground fight against a guy called Zulu (Justice Smith, BLOOD AND BONE, THOR) to try to raise the money. My assumption was that real life Lima really had a sick daughter and maybe did some kind of tournament fighting to pay for the surgery, not an illegal thing like this, but I've found some biographies of him online and none of them mention his family life at all. I guess this is one of those unverifiable martial arts tall tales, like how BLOODSPORT is supposed to be based on a real guy called Frank Dux who claims to have taken part in a real Kumite. But if the guy's daughter (who I believe is playing herself in the movie?) didn't really get sick that would be an unethical truth-stretching in my opinion. (read the rest of this shit…)
VERN has a new action-horror novel out called WORM ON A HOOK! He has been reviewing movies since 1999 and is the author of the film criticism books Seagalogy: A Study of the Ass-Kicking Films of Steven Seagal and Yippee Ki-Yay Moviegoer!: Writings on Bruce Willis, Badass Cinema and Other Important Topics as well as the crime novel Niketown.