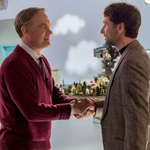 A BEAUTIFUL DAY IN THE NEIGHBORHOOD has been promoted as a Fred Rogers biopic, and it it is true that Tom Hanks (THE LADYKILLERS) tackles the challenge of portraying the famously gentle Neighborhood of Make-Believe resident. But it's not his life story, or even the smarter kind of biopic that focuses on one period as a microcosm of his life. Instead it makes him a supporting character in the story of a journalist coming to terms with his estranged father while working on a magazine profile of Rogers. I guess it's kind of like SAVING MR. BANKS, where Hanks played Walt Disney as co-lead with a highly fictionalized P.L. Travers, but it's probly more comparable to if MILES AHEAD was mostly about Ewan McGregor's character dealing with family issues and Miles Davis occasionally gives him good advice that he rejects until the end of the movie.
So it doesn't matter much that this is coming on the heels of a popular documentary (WON'T YOU BE MY NEIGHBOR?) that it could never equal – it's not the same thing at all. They do manage to work in a few re-enactments of famous moments (a couple seconds of his congressional testimony) and remixes of scenes from the documentary (a crowded cafe – and therefore the theater you're sitting in – goes silent when he asks our protagonist to stop and think about "the people who loved you into being"). But if I remember right the documentary had a part where writer Tom Junod said that writing a profile on Rogers for Esquire changed his attitude toward life, and this is mostly extrapolated from that idea, with Rogers as guest star guru to writer Lloyd Vogel (Matthew Rhys, TITUS). (read the rest of this shit…)
VERN has a new action-horror novel out called WORM ON A HOOK! He has been reviewing movies since 1999 and is the author of the film criticism books Seagalogy: A Study of the Ass-Kicking Films of Steven Seagal and Yippee Ki-Yay Moviegoer!: Writings on Bruce Willis, Badass Cinema and Other Important Topics as well as the crime novel Niketown.