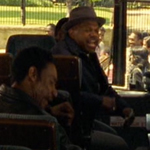 Well, I'm skipping ahead in the Spike Lee chronology I've been ever-so-slowly crawling my way through, but I thought a movie about a march on Washington would be a good thing to revisit on the Martin Luther King Day starting the week that, as far as we know, will end with the inauguration of the first American president to be 2 degrees of separation from Steven Seagal (they have a mutual friend, a Russian guy named Vladimir something) and subsequent protest march.
GET ON THE BUS is a road trip movie, but it could almost be a play, because the vast majority of it is about conversations taking place inside a charter bus. Around fifteen African American men, most of them meeting for the first time, are headed from a church parking lot in South Central Los Angeles to the Million Man March in Washington DC. If you're too young to remember, that was the October 16, 1995 gathering of black men organized by Nation of Islam leader Louis Farrakhan.
VERN has a new action-horror novel out called WORM ON A HOOK! He has been reviewing movies since 1999 and is the author of the film criticism books Seagalogy: A Study of the Ass-Kicking Films of Steven Seagal and Yippee Ki-Yay Moviegoer!: Writings on Bruce Willis, Badass Cinema and Other Important Topics as well as the crime novel Niketown.