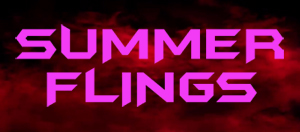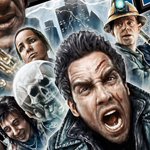 July 22, 1999
MYSTERY MEN. Huh. There might've been room for a big budget super hero parody movie in 1999, if you're into that sort of thing, but it needed better jokes than "ha ha, this would be a terrible super hero. What a dumb name and costume." This is an impressive cast in a big, expensive comedy with very few laughs.
A group of amateur super heroes – shovel-carrying The Shoveler (William H. Macy, THE LAST DRAGON), fork-throwing Blue Raja (Hank Azaria, HEAT) and leather-jacket wearing Mr. Furious (Ben Stiller, NEXT OF KIN) struggle to find success or recognition. They're definitely meant to be lovable underdog misfits, but I had trouble respecting them. It's established that there's an actual super powered guy called Captain Amazing (Greg Kinnear, THE MATADOR) who's a douche and wears corporate logos like a NASCAR driver but he's made Champion City so safe that he has to get his arch-nemesis Casanova Frankenstein (Geoffrey Rush, MUNICH) released from the asylum just to have something to do. Before that happens the unnamed Mystery Men couldn't be little guys trying to make a different in a harsh world – they're delusional losers trying to feel important by forcing themselves into a job that they're not needed for, and are really, really bad at. I did not find them appealing. (read the rest of this shit…)
VERN has a new action-horror novel out called WORM ON A HOOK! He has been reviewing movies since 1999 and is the author of the film criticism books Seagalogy: A Study of the Ass-Kicking Films of Steven Seagal and Yippee Ki-Yay Moviegoer!: Writings on Bruce Willis, Badass Cinema and Other Important Topics as well as the crime novel Niketown.