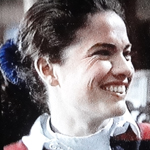 When I moved a few months ago I found a box of VHS tapes deep in my closet, and on one of them had been taped the 1994 NBC Movie of the Week TONYA & NANCY: THE INSIDE STORY. I offer no explanation except that Elm Street's own Nancy, Heather Langenkamp, plays Kerrigan. Anyway, I set it aside to watch after I, TONYA.
And when I did I was surprised to find how much the two biopics, made 23 years apart, have in common. Of course they hit many of the same famous moments and details, but also they both seem very self conscious about seeming exploitative and therefore attempt to elevate the material with a playful style involving mock interviews and contradictory viewpoints. Some of the scenes, like Tonya being chased by her stepbrother, her father leaving or the first time she meets Jeff Gillooly have weirdly similar staging. Both movies flash forward to Nancy screaming "Why?" early on and then take their time showing Harding's life leading up to the attack (though this one does have scenes just about Kerrigan).
Both movies have a similar view of Tonya: her dad taught her boy things (shooting guns, shooting pool, fixing engines), her mom abused her, her step brother abused her, her husband abused her, she got swept up and either didn't know or didn't fully understand what these guys were doing on her behalf. Would you believe that both movies have a part where the fourth wall is broken to directly accuse the viewer of contributing to the abuse and exploitation of Tonya Harding? In this one it doesn't come from the actor playing Harding, it comes from the actor playing the screenwriter of the TV movie! (read the rest of this shit…)
VERN has a new action-horror novel out called WORM ON A HOOK! He has been reviewing movies since 1999 and is the author of the film criticism books Seagalogy: A Study of the Ass-Kicking Films of Steven Seagal and Yippee Ki-Yay Moviegoer!: Writings on Bruce Willis, Badass Cinema and Other Important Topics as well as the crime novel Niketown.