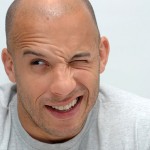 You take the "the"s out, the title becomes more aerodynamic. This unlikely THE FAST AND THE FURIOUS part 4 combines elements of the previous 3: the characters and tone of part 1, the video game plotting and drug kingpin bad guys of part 2, the director and improved visual style of part 3. Combining all the technologies they've developed into a new model.
Part 3 might still be my favorite, with its comprehensive visual tribute to everything that looks cool in Tokyo and its charismatic lead performance by Lucas Black (plus Sonny Chiba bit part, Incredible Hulk car and stupid cameo at the end). I was surprised how much I liked that one and even more surprised how many people I know who have no interest in the series liked it too. (read the rest of this shit…)
VERN has been reviewing movies since 1999 and is the author of the books SEAGALOGY: A STUDY OF THE ASS-KICKING FILMS OF STEVEN SEAGAL, YIPPEE KI-YAY MOVIEGOER!: WRITINGS ON BRUCE WILLIS, BADASS CINEMA AND OTHER IMPORTANT TOPICS and NIKETOWN: A NOVEL. His horror-action novel WORM ON A HOOK will arrive later this year.