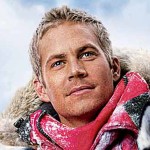 I really don't have a problem with America's team captain, Paul Walker. Alot of people seem to hate this guy, but I think he's pretty good at playing these straight laced hunky characters in movies like THE FAST AND THE FURIOUS and EIGHT BELOW. But I gotta admit, when I saw the trailer for RUNNING SCARED I thought it looked like the worst shit ever. Paul Walker doing an accent, playing a mob guy? I wasn't buying it. It didn't help that the trailer ended with mobsters trying to hit a glowing hockey puck into Walker's mouth. Like it's not enough to hit the guy in the face, they gotta make it visually appealing and EXTREME.
But there are two things that the trailer didn't get across. One, that Paul Walker actually does a pretty good job playing this type of character. I was hoping that Clint's FLAGS OF OUR FATHERS would be the movie that shows Walker is a little better than people thought, but his part in that one turned out to be minimal. Instead it was this one that makes you think huh, maybe he could play other types of characters. Hard to say. The second thing the trailer didn't get across about RUNNING SCARED is that it's a crazed, ridiculous movie where the day-glo hockey rink fits right in. And I guess the third thing is that Billy Crystal and Gregory Hines are not in this one, it's Paul Walker. (read the rest of this shit…)
VERN has been reviewing movies since 1999 and is the author of the books SEAGALOGY: A STUDY OF THE ASS-KICKING FILMS OF STEVEN SEAGAL, YIPPEE KI-YAY MOVIEGOER!: WRITINGS ON BRUCE WILLIS, BADASS CINEMA AND OTHER IMPORTANT TOPICS and NIKETOWN: A NOVEL. His horror-action novel WORM ON A HOOK will arrive later this year.