July 29, 1998
THE NEGOTIATOR is a monument to that too-brief window of time when there were big budget Samuel L. Jackson vehicles. He'd been acclaimed in supporting roles including JUNGLE FEVER, then said that line in JURASSIC PARK, then became a superstar with PULP FICTION. I always thought it was unfair that Travolta was nominated for best actor and Jackson for supporting, but that's mostly where he stayed. He was still kind of a sidekick in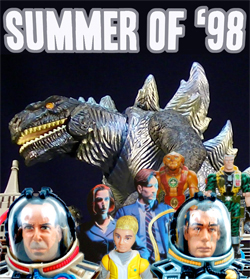 DIE HARD WITH A VENGEANCE or THE LONG KISS GOODNIGHT or a scene-stealer in JACKIE BROWN. And technically even this one is a two-hander with another star, but it starts on Jackson and keeps the two separated for most of the movie so I'd put it in a rare Samuel-L.-Jackson-vehicle category along with SHAFT, THE 51st STATE and SNAKES ON A PLANE.
Also going on in the late '90s: Kevin Spacey. Like Jackson, he was a veteran character actor who suddenly caught the world's eye with an indelible performance in a breakout indie crime drama. And he actually won his Oscar. After SE7EN and L.A. CONFIDENTIAL he was one of the most respected dramatic actors in Hollywood.
So THE NEGOTIATOR had a pretty catchy thriller hook (hostage negotiator gets framed by crooked cops, takes hostages in a desperate ploy to find out the truth and prove his innocence), but it was definitely that heavyweight actor showdown that lured us in. Two enormously respected actors, also known for hip movies, actoring the shit off each other in a studio thriller. That had appeal back then. (read the rest of this shit…)
VERN has a new action-horror novel out called WORM ON A HOOK! He has been reviewing movies since 1999 and is the author of the film criticism books Seagalogy: A Study of the Ass-Kicking Films of Steven Seagal and Yippee Ki-Yay Moviegoer!: Writings on Bruce Willis, Badass Cinema and Other Important Topics as well as the crime novel Niketown.