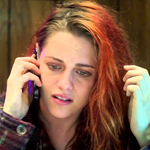 AMERICAN ULTRA is an action… I want to say comedy?… about what would happen if a totally unlikable stoner who works at a Cash 'n Carry turned out to unknowingly be a brainwashed government super killer who has been missing and the CIA tries to take him out so he finds himself killing a bunch of dudes in self defense and doesn't know why. THE BOURNE IDENTITY meets some dude you know's unproductive early 20s.
But it's not jokey like a Cheech and Chong picture or THE PINEAPPLE EXPRESS. Mike, the horrible loser protagonist, is played by Jesse Eisenberg (CURSED) with his usual cold distance, minus the intelligence. He's not the funny or huggable type of stoner either, he's just the kind that you're supposed to like because he has a dream of creating a generic "underground comic" about a monkey (it could be this generation's MONKEYBONE in my opinion) and mumbles quasi-deep philosophical bullshit comparing his life to that of a tree. In narration he humblebrags about being "a fucked up couple" with his long-suffering, oh-that-poor-woman, someone-really-needs-to-have-an-intervention-with-her-about-that-terrible-boyfriend-that-is-sucking-away-her-life-essence-every-second-of-the-day girlfriend Phoebe (Kristen Stewart, JUMPER). But, sorry bud, these two aren't even Sid and Nancy, they're just a guy who disappoints his girlfriend by saying they're going to Hawaii and then instead having a panic attack and bringing her home to make her an omelette and then burning it. (read the rest of this shit…)
VERN has a new action-horror novel out called WORM ON A HOOK! He has been reviewing movies since 1999 and is the author of the film criticism books Seagalogy: A Study of the Ass-Kicking Films of Steven Seagal and Yippee Ki-Yay Moviegoer!: Writings on Bruce Willis, Badass Cinema and Other Important Topics as well as the crime novel Niketown.