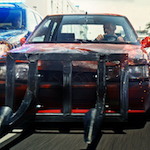 LOST BULLET (original title: BALLE PERDUE) is an outstanding 2020 French action movie that's available on Netflix, and it turns out it's one of my favorites of last year. It's a car chase movie and a one-man-on-the-run-trying-to-prove-his-innocence thriller and there's a little bit of fighting and both the action direction and the storytelling are beautifully clean. It feels raw and grounded, but in a good way, not in that joy-sucking sort of way where realism is more important than entertainment. Man, I loved this one.
It opens with Lino (Alban Lenoir, an actor/writer/action coordinator/second unit director on a show called Hero Corp), a mechanic, preparing a souped up engine on a small car and nervously strapping himself in, steeling himself for a crash. He picks up his Eddie-Furlong-looking little brother Quentin (Rod Paradot, STANDING TALL) and hands him a helmet, and we realize he's planning to ram through the side of a jewelry store. Quentin tries to talk him out of it, thinking there's no way they'll make it through that wall in this little thing. But Quentin has a huge debt of some kind and Lino thinks this is the only way to save his ass. (read the rest of this shit…)
VERN has a new action-horror novel out called WORM ON A HOOK! He has been reviewing movies since 1999 and is the author of the film criticism books Seagalogy: A Study of the Ass-Kicking Films of Steven Seagal and Yippee Ki-Yay Moviegoer!: Writings on Bruce Willis, Badass Cinema and Other Important Topics as well as the crime novel Niketown.