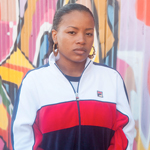 Do you guys know who Roxanne Shanté is? In the early days of hip hop, back when it was still pretty much just a New York thing, she was one of the greatest battle MCs. And she was also a 14-year old girl. Marley Marl, the producer behind Big Daddy Kane, Biz Markie, MC Shan, Kool G Rap, and others, was her neighbor in the Queensbridge housing projects. The way she tells it, one day when she was going to do her laundry he yelled down to her from his window to ask if it was true she could rap, and would she come up and record some rhymes for him. When he played her the beat that had been sampled in UTFO's hit "Roxanne Roxanne," she says she freestyled about being the Roxanne in the song. Ten minutes later she went back to the laundry and forgot all about it until her friend called and told her it was playing on the radio. And then it became a phenomenon.
I never knew much about her or heard that story until she was on Ice-T's podcast three years ago. I actually wonder if that interview gave writer/director Michael Larnell the idea to make a movie about her. Either way, a bunch of the details she mentioned to Ice ended up in the biopic ROXANNE ROXANNE, which played Sundance in January and was released direct to Netflix on Friday.
I think Shanté's story is more natural for a movie than your usual superstar music biopic it was more neighborhood legend than media event. I know her voice and style and "Roxanne's Revenge" and some of the responses it inspired from rival female MCs, like when UTFO came back with someone calling herself "The Real Roxanne" added to the payroll. But she's not like Johnny Cash or someone where they're wedded to depicting the creation of all the most famous songs and their climbs up the charts and a bunch of iconic moments that people would be mad if they skipped. And there's not a bunch of footage we've all seen a million times and can't help but compare it to. (read the rest of this shit…)
VERN has a new action-horror novel out called WORM ON A HOOK! He has been reviewing movies since 1999 and is the author of the film criticism books Seagalogy: A Study of the Ass-Kicking Films of Steven Seagal and Yippee Ki-Yay Moviegoer!: Writings on Bruce Willis, Badass Cinema and Other Important Topics as well as the crime novel Niketown.