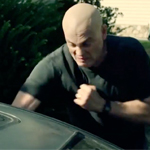 When we last left novelist and heavy metal drummer turned filmatist S. Craig Zahler, he had made a distinctive directorial debut with BONE TOMAHAWK, a nice western with great characters and dialogue and that turns into a little bit of a gory cannibal movie by the end. I liked that one quite a bit but I think film #2, the crime movie BRAWL IN CELL BLOCK 99 (which is coming to video on the 26th but I splurged for VOD) is a huge leap ahead for him.
Vince Vaughn (PSYCHO) stars as Bradley Thomas, a burly tow truck driver who, after a really bad day, decides to go back to the drug business for a while. Cut to 18 months later, when his bedroom is almost as big as the whole house we just saw him in, and his wife Lauren (Jennifer Carpenter, BATTLE IN SEATTLE) is pregnant. Their dreams are finally coming true, but some things go wrong at work (as they do) and he ends up in prison, where he must protect himself on the inside and his family on the outside from the enemies he's made. (read the rest of this shit…)
VERN has a new action-horror novel out called WORM ON A HOOK! He has been reviewing movies since 1999 and is the author of the film criticism books Seagalogy: A Study of the Ass-Kicking Films of Steven Seagal and Yippee Ki-Yay Moviegoer!: Writings on Bruce Willis, Badass Cinema and Other Important Topics as well as the crime novel Niketown.