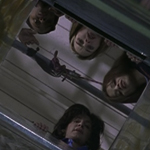 One of my favorite movies last year was Steve McQueen U.K.'s heist movie WIDOWS. I feel like it got a little less attention than it deserved, but it stuck in my mind for weeks. So I got curious about the source material, a 1983 mini-series written by Lynda La Plante (Prime Suspect). It does exist as a PAL DVD but I don't have access to it. I did, however, find a 2002 remake (also scripted by La Plante) that was an earlier attempt at an American version. This one takes place in Boston, though it was filmed in Toronto.
As I expected, this isn't a patch on a patch of the McQueen version's balls, but I was able to enjoy it for what it was. Keep in mind this aired on ABC, and at a time right before TV started to evolve into what we have now – The Shield and The Wire started that year. And also American Idol and The Bachelor. So this is the type of television event where you might roll your eyes a little at first, but then you get drawn in. And it's interesting to see an alternate take on the material. The heist is different and the characters have different backgrounds than in McQueen's, but the story isn't too far off.
Mercedes Ruehl (LAST ACTION HERO) plays a pretty different version of Ms. Rawlins, who brings together her fellow widows of a heist gone wrong to finish a job their husbands had planned. She's meaner and bossier than Viola Davis' version, more of a mob wife. And she has the original name, Dolly. When she first encounters the other widows at the morgue she acts like they're beneath her and has no interest in talking to them. When she later wants their help she still doesn't really treat them as people she has something in common with. Ruehl is really good as a tough lady who eventually softens as she comes to see the others as cohorts instead of employees. (read the rest of this shit…)
VERN has a new action-horror novel out called WORM ON A HOOK! He has been reviewing movies since 1999 and is the author of the film criticism books Seagalogy: A Study of the Ass-Kicking Films of Steven Seagal and Yippee Ki-Yay Moviegoer!: Writings on Bruce Willis, Badass Cinema and Other Important Topics as well as the crime novel Niketown.