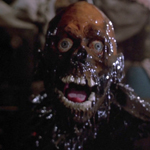 There are a bunch of movies that I consider among my very favorites, that I refer to all the time, and then when I try to make a link to them in another review I realize what in God's name, how have I not officially reviewed the greatest zombie movie ever made by somebody who is not named George Romero? And what does this say about me as a person?
Not being made by Romero was actually kind of the whole point of this one. NIGHT OF THE LIVING DEAD co-writer (and infamous 30th Anniversary Edition maker) John Russo disagreed with Romero about how to do a sequel. Romero thought it should be one of the best movies of all time and Russo wanted to go a different direction. So Romero made DAWN OF THE DEAD and Russo wrote a book called THE RETURN OF THE LIVING DEAD which apparently starts with a bus crash in a small town where the locals aren't able to impale the brains of the dead like they usually do. (The book is very rare and pricey so I haven't read it for myself).
The film rights ended up with Tobe Hooper with DARK STAR star/Jodorowsky's DUNE would-be effects guy/ALIEN writer Dan O'Bannon working on the script. When Hooper left to do LIFEFORCE instead O'Bannon took over as director and rewrote the whole thing to be more humorous and have nothing to do with the book. (Russo got a story credit along with Rudy Ricci, another Romero buddy who wrote THERE'S ALWAYS VANILLA and was one of the bikers in DAWN OF THE DEAD. In the end Russo wrote the novelization of the movie that came out of the book that he wrote in order to make into a movie.) (read the rest of this shit…)
VERN has been reviewing movies since 1999 and is the author of the books SEAGALOGY: A STUDY OF THE ASS-KICKING FILMS OF STEVEN SEAGAL, YIPPEE KI-YAY MOVIEGOER!: WRITINGS ON BRUCE WILLIS, BADASS CINEMA AND OTHER IMPORTANT TOPICS and NIKETOWN: A NOVEL. His horror-action novel WORM ON A HOOK will arrive later this year.