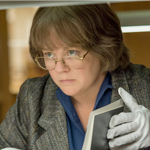 In CAN YOU EVER FORGIVE ME?, Melissa McCarthy (CHARLIE'S ANGELS) plays Lee Israel, a writer (this is based on her memoir) who's maybe hit a rough patch. She's had a book on the New York Times bestseller list, which she figures has gotta be worth something, but now her agent (Jane Curtin, CONEHEADS) tries to avoid her and has no interest in her planned Fannie Brice biography.
Lee gets fired from her day-going-into-late-night publishing industry job for being an asshole and for drinking, two of her defining characteristics. But her only friend – her cat – is sick, the vet won't help until she pays her previous bills, and the used bookstore doesn't want what she's offering any more than the magazine editors want what she's pitching.
So it starts in desperation. She figures out she can get money by selling a nice letter that Katharine Hepburn sent to Lee to thank her for a profile she wrote. Next she swipes a Fannie Brice letter from a research archive and tries to sell that, but the content is bland, so nobody offers her much. In a fit of frustration or smart-assed boldness she pops the letter in her typewriter and adds a witty postscript. And sure enough when she tries to sell it that raises its value. (read the rest of this shit…)
VERN has been reviewing movies since 1999 and is the author of the books SEAGALOGY: A STUDY OF THE ASS-KICKING FILMS OF STEVEN SEAGAL, YIPPEE KI-YAY MOVIEGOER!: WRITINGS ON BRUCE WILLIS, BADASS CINEMA AND OTHER IMPORTANT TOPICS and NIKETOWN: A NOVEL. His horror-action novel WORM ON A HOOK will arrive later this year.