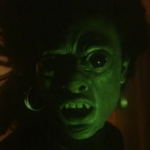 I remember DEF BY TEMPTATION (1990) seeming like an important indie movie at the time. Robert Townsend and then Spike Lee had created this excitement around the new black cinema in the late '80s. This one predates Matty Rich's STRAIGHT OUT OF BROOKLYN by a month and John Singleton's BOYZ N THE HOOD by a year, and represents the movement extending into the horror genre half a decade before Rusty Cundieff's TALES FROM THE HOOD.
Writer-director-producer-actor James Bond III made his low budget story of a vampire in the dating scene in New York, with Troma coming in to give him finishing funds. So Lloyd Kaufman provides an introduction with some fun trivia on the crappily transferred 20th Anniversary Edition DVD, including that he had to take over as cinematographer for one of the climactic scenes. That's notable because the rest of the movie is, as the credits say, "shot by Ernest Dickerson," who was definitely hot shit because he'd already done THE BROTHER FROM ANOTHER PLANET, KRUSH GROOVE, SHE'S GOTTA HAVE IT, SCHOOL DAZE and DO THE RIGHT THING. (read the rest of this shit…)
VERN has a new action-horror novel out called WORM ON A HOOK! He has been reviewing movies since 1999 and is the author of the film criticism books Seagalogy: A Study of the Ass-Kicking Films of Steven Seagal and Yippee Ki-Yay Moviegoer!: Writings on Bruce Willis, Badass Cinema and Other Important Topics as well as the crime novel Niketown.