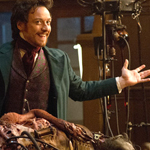 VICTOR FRANKENSTEIN is maybe the only retelling of Mary Shelley's Frankenstein story I've seen where the monster is not very important. Played by Spencer Wilding (Darth Vader from ROGUE ONE), he's just the mindless special effect that they fight at the climax. So it's kind of more about Dr. Frankenstein (James Mcavoy, WANTED), except the main character is Igor (Daniel Radcliffe, THE TAILOR OF PANAMA), who is not so much his assistant as his brilliant partner who has more sense than he does and backs out right before they make that monster.
It starts with Igor as a nameless, hunchbacked, clown-makeup-wearing freak in a circus. For some reason he doubles as the medic, and because he also passionately reads medical books in his spare time, he is a brilliant, ahead of his time medical genius. No big deal. This comes in handy when the acrobat he has a crush on (Jessica Brown Findlay, WINTER'S TALE) falls. Frankenstein, being in the audience, comes to help, but is sure there's nothing they can do for her – until the hunchback proves otherwise.
Impressed, Frankenstein comes back and frees the hunchback from his cage, and there is a hip Guy Ritchie style slow-mo wacky action scene where Victor does a little bit of parkour and a knifethrower accidentally kills another circus guy in the mayhem. Victor gives Igor his name, hides him out in his apartment and gets him to help with his experiments. Meanwhile, Scotland Yard is on their trail for supposedly murdering the knife victim. (read the rest of this shit…)
VERN has a new action-horror novel out called WORM ON A HOOK! He has been reviewing movies since 1999 and is the author of the film criticism books Seagalogy: A Study of the Ass-Kicking Films of Steven Seagal and Yippee Ki-Yay Moviegoer!: Writings on Bruce Willis, Badass Cinema and Other Important Topics as well as the crime novel Niketown.