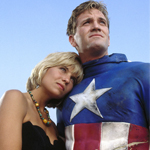 EXPLANATORY INTRODUCTION PARAGRAPH: I have noticed that some of the movies coming out this summer are based on pre-existing characters or stories. In this off and on series we'll look at earlier versions.
I don't know if the young people know about this now, but in 1989 Tim Burton's BATMAN (do people even watch that anymore?) was a gigantic explosion in pop culture. This was way back when "geek" was considered an insult and "actually some comic books aren't just for kids they call them graphic novels" was considered interesting trivia. A movie about a super hero hadn't been popular since SUPERMAN twelve years earlier, and that had seemed like an isolated incident. Now all the sudden the world was captivated by billboards and merchandise of just the bat symbol. It was on cereal boxes and racks of bootleg t-shirts in parking lots. Batman was worn by skateboarders, celebrated in weird Prince videos on MTV, welcomed back nostalgically in reruns of the '60s comedy series starring Adam West. Intrigued newcomers picked up paperbacks of the groundbreaking '80s work of dark Batman that were considered sacred texts from publication until the exact moment when musclebound Zack Snyder picked up the ball (the dodge ball?) and ran with it. (read the rest of this shit…)
VERN has a new action-horror novel out called WORM ON A HOOK! He has been reviewing movies since 1999 and is the author of the film criticism books Seagalogy: A Study of the Ass-Kicking Films of Steven Seagal and Yippee Ki-Yay Moviegoer!: Writings on Bruce Willis, Badass Cinema and Other Important Topics as well as the crime novel Niketown.