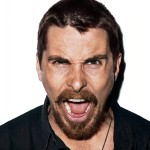 I got mixed feelings about this piece because it works on one level but then in my opinion it oughta work on another level too. This is the movie version of the controversial book about Pat Bateman, the yuppie who is obsessed with designer clothes and mutilating women.
In the movie, Pat says right upfront that he has no insides, but I don't think he really believes it. I think some part of him believes that because he has this secret life stabbing homeless dudes and chainsawing women, he is a little bit different from all the soulless, materialistic businessmen he keeps getting confused with. He has something that makes him stand out. And not to give anything away, because I'm not sure I really understood the ending otherwise I would give it away, but I think it has kind of an ironic Twilight Zone type ending that all this may have been a delusion so he doesn't even have THAT to make him unique. The sap. (read the rest of this shit…)
VERN has been reviewing movies since 1999 and is the author of the books SEAGALOGY: A STUDY OF THE ASS-KICKING FILMS OF STEVEN SEAGAL, YIPPEE KI-YAY MOVIEGOER!: WRITINGS ON BRUCE WILLIS, BADASS CINEMA AND OTHER IMPORTANT TOPICS and NIKETOWN: A NOVEL. His horror-action novel WORM ON A HOOK will arrive later this year.