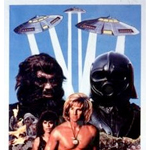 No – you're the hunter from the future.
It's fair to say that YOR, THE HUNTER (spoiler) FROM THE FUTURE is a cheesy movie. And though its 89 minutes are whittled down from an Italian mini-series of four 50-minute episodes, I don't need to see the other 111 minutes. But 89 of it is just right. I dug it.
Like CONQUEST for Lucio Fulci, YOR is director Antonio Margheriti (SEVEN DEATHS IN THE CAT'S EYE, CODE NAME: WILD GEESE, CANNIBAL APOCALYPSE) trying to ride the wave of savage shirtless musclemen left in the wake of CONAN THE BARBARIAN. But this story combines the ax-wielding stone age warriors with futuristic sci-fi elements. In that aspect – and in Reb Brown's blond wig and furry shorts and boots – YOR reminds me of He-Man and the Masters of the Universe, which started the year before. (read the rest of this shit…)
VERN has a new action-horror novel out called WORM ON A HOOK! He has been reviewing movies since 1999 and is the author of the film criticism books Seagalogy: A Study of the Ass-Kicking Films of Steven Seagal and Yippee Ki-Yay Moviegoer!: Writings on Bruce Willis, Badass Cinema and Other Important Topics as well as the crime novel Niketown.