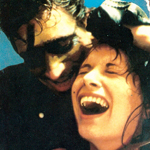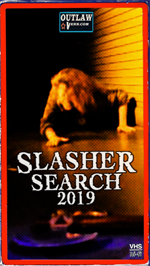 POSSESSION: UNTIL DEATH DO YOU PART is a 1987 low budget slasher movie that's not, as far as I can tell, a sequel to Andrzej Zulawski's POSSESSION. That's too bad, because there's plenty of room for DTV type followups to that one. It could just be in the rehash style of WILD THINGS 2 or CRUEL INTENTIONS 2 – some other couple breaking up with one of them fucking a weird blob of tentacles. You could gender swap or you could have it be the two blobs are breaking up and one is fucking a human, there are many ways to mix it up. Or of course if it was me I would try to get Sam Neill to come back (or recast with Billy Zane) and lean heavily into his character's background as a spy. More of a shitty cloak and dagger thing but with relationships and slime and what not. This movie has none of that.
It opens with a dude dragging a dead woman by one arm from the yard of his big house to a spot just inside the surrounding woods, where he digs her a grave. At first they're not showing his face, but then they do, and he's babbling animatedly about having thought she was different or some bullshit like that. His name is Frankie (John Robert Johnston, who became an executive producer of reality shows including Rampage, When Vacations Attack, Pranked and Bad Dog!), and he's got a bunch of other dead women in his closet, plus he kidnaps a live one named Madeline (Sharlene Martin from FRIDAY THE 13TH PART VIII: JASON TAKES MANHATTAN) from a parking garage. He brings her home, says weird things to her, forces her to put on his mom's dress, yells at her when she pulls down her top for a second because what if Mother saw her do that!? (read the rest of this shit…)
VERN has been reviewing movies since 1999 and is the author of the books SEAGALOGY: A STUDY OF THE ASS-KICKING FILMS OF STEVEN SEAGAL, YIPPEE KI-YAY MOVIEGOER!: WRITINGS ON BRUCE WILLIS, BADASS CINEMA AND OTHER IMPORTANT TOPICS and NIKETOWN: A NOVEL. His horror-action novel WORM ON A HOOK will arrive later this year.