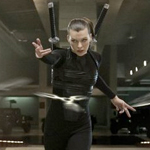 RESIDENT EVIL: AFTERLIFE is part 4. Series writer-producer Paul W.S. Anderson returns as director for the first time since part 1. I really like how each chapter seems to be completely different from the previous ones, and this is no exception. The new style may be in part because Anderson hadn't directed a RESIDENT EVIL in eight years (having only directed ALIEN VS. PREDATOR and DEATH RACE in the interim), but I think a huge part of it is that it was shot in 3D with the cameras developed for AVATAR. Not since STEP UP 3D have I so regretted not having seen a movie in 3D. It's carefully composed with steady camera moves, lots of depth, with numerous scenes of acrobatic fight moves and projectiles coming toward the audience, many times in slow motion. Bullets, knives, swords, tentacles, people, raindrops, quarters, blood, pieces of bullet-ridden walls and shards of glass are among the things that fly out of the screen. You can just tell it would look really cool in 3D, and luckily this is a style that also looks good in 2D. Anderson has a reputation as a hack, but at least give him this: he is in a very small group of directors who actually put in elbow grease to use the 3D medium well.
As is the RESIDENT EVIL tradition, the opening is like a short film unto itself. There's a security breach at the Umbrella Headquarters in Tokyo, which makes The Hive look like the FIRST BLOOD police station by comparison. A small army of security troops surround the elevator waiting for the intruder to emerge, a drawn out sequence playing with our anticipation for what Alice promised at the end of the last one. (read the rest of this shit…)
VERN has been reviewing movies since 1999 and is the author of the books SEAGALOGY: A STUDY OF THE ASS-KICKING FILMS OF STEVEN SEAGAL, YIPPEE KI-YAY MOVIEGOER!: WRITINGS ON BRUCE WILLIS, BADASS CINEMA AND OTHER IMPORTANT TOPICS and NIKETOWN: A NOVEL. His horror-action novel WORM ON A HOOK will arrive later this year.