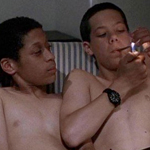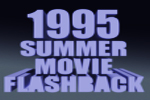 So KIDS is 20 years old – which is older than most (all?) of the actors in the movie. What I've discovered watching it now as an aging individual is that the older you get the more disgusting it gets. I mean, they have always been younger than me, but now they look like babies. The first shot of the movie is an endless closeup of skinny, shirtless sixteen-years-young Telly (Leo Fitzpatrick, now better known as a junkie on The Wire) awkwardly french kissing a girl who looks even younger than him (I believe he says she's 12). I don't think there's any nudity in this movie, and for all the sexual discussion and activity – enough that it had to be released NC-17 – it's actually not very graphic. But there's a whole lot of young teens sloppily kissing, which is almost more uncomfortable. Those scenes make me feel either like an old prude or a young kid who thinks kissing is gross.
This is the rookie movie of both director Larry Clark and writer Harmony Korine, and it definitely gives you an idea of the type of filmatists they would become. You got Clark's eye for a gritty, documentary texture and his obsession with documenting sweaty, burgeoning teenage sexuality, and you have Korine's weirdness and disdain for traditional cinematic storytelling. One long section of the movie is just cutting between two rooms, one full of boys, one full of girls, as they talk candidly/show-offily about sex. Of course they paint very different pictures. For example, in the boy's room they're pretty excited about how much they know girls love to "suck dick," while at that same moment the girls are all commiserating about how much they hate that. (read the rest of this shit…)
VERN has been reviewing movies since 1999 and is the author of the books SEAGALOGY: A STUDY OF THE ASS-KICKING FILMS OF STEVEN SEAGAL, YIPPEE KI-YAY MOVIEGOER!: WRITINGS ON BRUCE WILLIS, BADASS CINEMA AND OTHER IMPORTANT TOPICS and NIKETOWN: A NOVEL. His horror-action novel WORM ON A HOOK will arrive later this year.