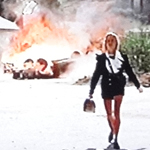 BREAKAWAY (1996) is another off-brand VHS-only b-movie of a type I like: clunky and obvious, but keeps it moving enough to be fun and allow me to appreciate the bits of personality. It's not to be confused with the BREAKAWAY that stars Dean Cain or the one in my head about a breakdancer recruited to be an international spy during the Cold War. This is the one that stars Teri Thompson, who other than this and MARRIED PEOPLE, SINGLE SEX mostly had parts like "Murder Victim" in DARK AVENGER and "Restaurant Woman #2" in ALMOST DEAD and "Dildo Girl (uncredited)" in SORORITY BOYS before creating a Youtube series understandably titled "Hollywood Is Hard." Here, though, she comes off as a star, overshadowing the other unfamiliar faces until Joe Estevez turns up as a hitman who becomes the main antagonist for a while.
Oh yeah, and "introducing Tonya Harding as Gina." TONYA & NANCY: THE INSIDE STORY mentioned that the infamous Olympian wanted to start acting, maybe on a soap opera or something. This is what became of that aspiration. (Her only other acting credit is a 2003 film called THE PRIZE FIGHTER.) Here she plays a restaurant manager who the main character's bombmaker boyfriend is cheating with. (read the rest of this shit…)
VERN has been reviewing movies since 1999 and is the author of the books SEAGALOGY: A STUDY OF THE ASS-KICKING FILMS OF STEVEN SEAGAL, YIPPEE KI-YAY MOVIEGOER!: WRITINGS ON BRUCE WILLIS, BADASS CINEMA AND OTHER IMPORTANT TOPICS and NIKETOWN: A NOVEL. His horror-action novel WORM ON A HOOK will arrive later this year.