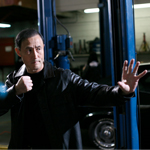 The box says FIST 2 FIST 2: WEAPON OF CHOICE, but it should just be WEAPON OF CHOICE. The distributor retitled it for some reason, but in FIST 2 FIST, writer/director/star Jino Kang played Ken, a former criminal turned martial arts instructor. In WEAPON OF CHOICE he plays Jack Lee, a former criminal who wears martial arts clothing but is not specified to be an instructor. Different guy, in my opinion.
The title refers to his method of showing up at a place – say a private club or warehouse – unarmed, fighting with his hands and feet and the guns and knives and what not he takes away from his opponents. This way he's not leaving any evidence behind but still manages to get in a big sword duel.
Jack is introduced using this technique to massacre a room full of people at a gangster's birthday dinner, leaving only one terrified witness to give his boss the message that "my part of the deal is done." Then we find him six years later living as an ordinary dude with an unnamed regular job, living with his teenage niece Jaime (Kelly Lou Dennis) who he's raised as his daughter since the death of her real father. But one day the boss finds out this was a scam – ol' brother-in-law faked his death to escape a debt. So masked men burst in and try to kill Jack and they kidnap Jaime and just for good measure they intend to traffic her. So… they're bad guys. (read the rest of this shit…)
VERN has been reviewing movies since 1999 and is the author of the books SEAGALOGY: A STUDY OF THE ASS-KICKING FILMS OF STEVEN SEAGAL, YIPPEE KI-YAY MOVIEGOER!: WRITINGS ON BRUCE WILLIS, BADASS CINEMA AND OTHER IMPORTANT TOPICS and NIKETOWN: A NOVEL. His horror-action novel WORM ON A HOOK will arrive later this year.