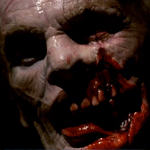 The way Stuart Gordon tells it, CASTLE FREAK was made because he saw Charles Band's poster for it before it was even really a premise.
"What's that about?"
"A castle and a freak."
I wouldn't be surprised if that's how the majority of Full Moon Pictures come about, but they usually don't have the brilliant director of RE-ANIMATOR and FROM BEYOND as the guy translating the poster into an actual movie, so they don't turn out this well.
Gordon's idea of CASTLE FREAK takes inspiration from H.P. Lovecraft. I'm sure you could also say that about what he eats for breakfast every morning. But he credits the short story "The Outsider," about a man escaping from the castle where he's lived alone for as long as he can remember. The screenplay is by Gordon's longtime collaborator Dennis Paoli (RE-ANIMATOR, FROM BEYOND, THE PIT AND THE PENDULUM, DAGON), and its hook is simple: American asshole John Reilly (Jeffrey Combs, THE FRIGHTENERS) inherits a 12th century castle from a Duchess and brings his unhappy wife (Barbara Crampton, FRATERNITY VACATION) and blind daughter (Jessica Dollarhide, 1 episode of Major Dad, 2 episodes of In Living Color, 2 episodes of Dr. Quinn, Medicine Woman) to check it out with him. Little do they know that his dead relative also left behind the feral, mutilated man she'd been torturing in the dungeon for most of his life. Probly should've mentioned that. (read the rest of this shit…)
VERN has been reviewing movies since 1999 and is the author of the books SEAGALOGY: A STUDY OF THE ASS-KICKING FILMS OF STEVEN SEAGAL, YIPPEE KI-YAY MOVIEGOER!: WRITINGS ON BRUCE WILLIS, BADASS CINEMA AND OTHER IMPORTANT TOPICS and NIKETOWN: A NOVEL. His horror-action novel WORM ON A HOOK will arrive later this year.