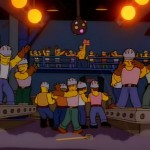 How's this for a weird eight-legged-pig-fetus-in-a-jar of a movie: Jean-Luc Godard experimental noodling based on a Richard Stark novel! I knew it existed thanks to our friends at the Movie Database of the Internet, but I never figured I'd see it. Then I discovered a PAL CODE 2 triple feature Godard set that includes it along with PRENOM CARMEN (First Name: Carmen) and PIERROT LE FOU (Parrot Kung Fu I guess).
Now first of all I gotta admit upfront, I couldn't make ass or tits of this picture. I didn't get it. I know about that wave the french had over there. As in, I know they had it. I seen a couple of your Truffauts and I saw SEVEN DEADLY SINS once but that's about it. So if you want to talk to somebody who knows what the fuck they're talkin about when it comes to Monsieur Godard, I ain't the one. Ask the cinemasters. There's a couple good reviews of this on IMDb by people who know their Godards, so you can go to them for a perspective if that's what you need. (read the rest of this shit…)
VERN has been reviewing movies since 1999 and is the author of the books SEAGALOGY: A STUDY OF THE ASS-KICKING FILMS OF STEVEN SEAGAL, YIPPEE KI-YAY MOVIEGOER!: WRITINGS ON BRUCE WILLIS, BADASS CINEMA AND OTHER IMPORTANT TOPICS and NIKETOWN: A NOVEL. His horror-action novel WORM ON A HOOK will arrive later this year.