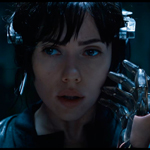 In my view Scarlett Johansson can do no wrong. But the live action manga and/or anime adaptation GHOST IN THE SHELL probly did itself a fatal wrong by casting her as the human-brained robot cop Major, a role that probly should've showcased an exciting up and coming Japanese-American actress.
I was skeptical about the controversy at first, because the animated version of the character looks white to my American eyes, and I mean she's a robot she can look any way they want her to look, plus the story takes place in a very international future, and anyway it's an American remake of a foreign film so by definition it's gonna be changed for American culture, and additionally the director of the anime Momoru Oshii said that Johansson was perfect for the part, and it's true that her roles in UNDER THE SKIN and LUCY prove that she's uniquely qualified to play an ass-kicking almost-naked robot lady, and furthermore it's not like it's easy for her to get a lead role like this either, and anyway a couple years ago all the clamor was for Hollywood to make more big genre movies based around women, and back then nobody specified "white women don't count." So I feel bad for her.
But… I think the criticisms were legitimate. (read the rest of this shit…)
VERN has a new action-horror novel out called WORM ON A HOOK! He has been reviewing movies since 1999 and is the author of the film criticism books Seagalogy: A Study of the Ass-Kicking Films of Steven Seagal and Yippee Ki-Yay Moviegoer!: Writings on Bruce Willis, Badass Cinema and Other Important Topics as well as the crime novel Niketown.