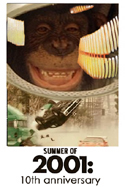 Okay, I'm confusing myself here. In preparing for my Summer of 2001 10th Anniversary Retrospective I skipped watching JURASSIC PARK III (which was released July 18th, 2001), because I watched it again last summer to re-evaluate and my opinion had not changed from my original review.
Except the thing is now I cannot find any original review. Did I never write about it? I thought I did but I can't find it in the review list or using Google. So I'm not sure why I didn't write it up last summer. Whoops. This is not a review because it's not fresh in my mind, but I will say a few things about it so we can discuss it in context of the other '01 joints. This is the 10th anniversary and director Joe Johnston has a new movie coming out too so this is a good time to hash it out.
VERN has a new action-horror novel out called WORM ON A HOOK! He has been reviewing movies since 1999 and is the author of the film criticism books Seagalogy: A Study of the Ass-Kicking Films of Steven Seagal and Yippee Ki-Yay Moviegoer!: Writings on Bruce Willis, Badass Cinema and Other Important Topics as well as the crime novel Niketown.