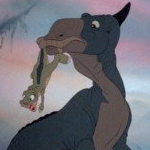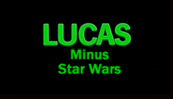 THE LAND BEFORE TIME is a good example of a movie legacy destroyed by a "franchise." Throughout the '90s the name was synonymous with candy-colored sing-along babysitters in clamshells thanks to thirteen straight to video sequels (THE LAND BEFORE TIME XIV: JOURNEY OF THE BRAVE starring Damon Wayans Jr. and Reba McEntire drops February 2nd – not a joke), and 26 episodes of a TV series. So I was surprised to watch the original – executive produced by George Lucas and Steven Spielberg and directed by Don Bluth (THE SECRET OF NIMH, AN AMERICAN TAIL), none of whom had anything to do with the sequels – and find out it's a pretty solid animated feature in the mold of early Disney.
Apparently Spielberg conceived it as BAMBI with dinosaurs, and that's pretty much what they made. It's an admiring depiction of the world of dinosaurs, with children being born into a scary world, making friends, experiencing danger and death. It is not a musical, the comic relief is minor, any cuteness is juxtaposed with an overall tone of melancholy. I mean, it's about plant-eating dinosaurs in a world with almost no plants left. (read the rest of this shit…)
VERN has been reviewing movies since 1999 and is the author of the books SEAGALOGY: A STUDY OF THE ASS-KICKING FILMS OF STEVEN SEAGAL, YIPPEE KI-YAY MOVIEGOER!: WRITINGS ON BRUCE WILLIS, BADASS CINEMA AND OTHER IMPORTANT TOPICS and NIKETOWN: A NOVEL. His horror-action novel WORM ON A HOOK will arrive later this year.