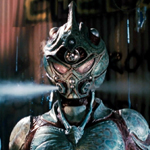 GUYVER, a.k.a. THE GUYVER is a 1991 sci-fi/martial arts b-movie that I saw back in the day and decided to revisit when I did that Polygon piece on '90s comic book movies. The idea comes from a manga that had also been turned into anime, which is pretty apparent just from the look of the main character.
Jack Armstrong (STUDENT BODIES) plays Sean Barker, a blandly handsome karate student who finds an alien super weapon hidden in some garbage (much like Stanley finding a magic mask in the river in THE MASK) and it merges with his body, giving him the power to encase himself in bio-mechanical armor and weaponry. We know he's mixed up in an ancient intergalactic war because of some detailed text and narration that opened the movie. It started by saying:
"At the beginning of time, aliens came to the Earth to create the ultimate organic weapon. They created Mankind. By planting a special gene into man they created the ZOANOIDS — Humans who can change at will into super monster soldiers." (read the rest of this shit…)
VERN has a new action-horror novel out called WORM ON A HOOK! He has been reviewing movies since 1999 and is the author of the film criticism books Seagalogy: A Study of the Ass-Kicking Films of Steven Seagal and Yippee Ki-Yay Moviegoer!: Writings on Bruce Willis, Badass Cinema and Other Important Topics as well as the crime novel Niketown.