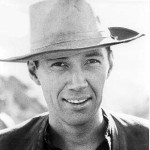 What if I were to tell you that there was a movie based on a story by Bruce Lee (sort of based on his zen philosophy), starring David Carradine (in multiple roles) but also featuring Christopher Lee, Roddy McDowall and Eli Wallach? And maybe I would also say it takes place in a fantasy world and Carradine plays a flute that he also uses for a weapon, and let's say that my man James Coburn – well, he's not in it as an actor, but being a student of Bruce Lee maybe he helped write the story. And then the screenplay was written by Sterling Silophant who wrote THE TOWERING INFERNO and crap like that. But then the director was some guy named Richard Moore who only directed that one movie. But he was cinematographer for THE STONE KILLER with Charles Bronson. But also ANNIE.
Well let's take the gloves off, you can forget about "what if" and come down to the world of reality because I'm about to tell you that I just saw EXACTLY THAT movie described above. (see above.) CIRCLE OF IRON starts out with a corny statement about Bruce Lee before going into a MORTAL KOMBAT type competition where half naked white dudes with mustaches do karate against each other as some type of a test. (read the rest of this shit…)
VERN has been reviewing movies since 1999 and is the author of the books SEAGALOGY: A STUDY OF THE ASS-KICKING FILMS OF STEVEN SEAGAL, YIPPEE KI-YAY MOVIEGOER!: WRITINGS ON BRUCE WILLIS, BADASS CINEMA AND OTHER IMPORTANT TOPICS and NIKETOWN: A NOVEL. His horror-action novel WORM ON A HOOK will arrive later this year.