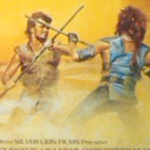 STEEL DAWN takes the post-apocalyptic world of George Miller, pumps up the samurai and western influences, adds a little martial arts, replaces the internal combustion engine with wind power, and invents the Patrick Swayze action vehicle. He'd already made a name for himself in ensembles – THE OUTSIDERS, UNCOMMON VALOR, RED DAWN – but this was released only three months after his breakout role in DIRTY DANCING. It didn't catch on in the same way, and it doesn't play on cable nearly as much. But this last time I watched it was a profound experience.
It opens with Swayze balancing on his head in the middle of a desert. That's how he meditates. But then a bunch of shrieking, masked mutants climb out of the sand to attack him. He uses martial arts to fight them off, pulling a sword out of his bag when he gets too outnumbered.
He's a nomad. In fact, he's credited as Nomad. Heading for a tavern, he gets attacked by an old warrior who turns out to be Cord (John Fujioka, AMERICAN NINJA, AMERICAN SAMURAI, AMERICAN YAKUZA), an old war comrade just fucking with him. They catch up over drinks but suddenly a bunch of brutes led by a guy named Sho (Christopher Neame, LUST FOR A VAMPIRE, DRACULA A.D. 1972, SPECIES III) in a ridiculous hair metal wig attack them and kill Cord. (read the rest of this shit…)
VERN has been reviewing movies since 1999 and is the author of the books SEAGALOGY: A STUDY OF THE ASS-KICKING FILMS OF STEVEN SEAGAL, YIPPEE KI-YAY MOVIEGOER!: WRITINGS ON BRUCE WILLIS, BADASS CINEMA AND OTHER IMPORTANT TOPICS and NIKETOWN: A NOVEL. His horror-action novel WORM ON A HOOK will arrive later this year.