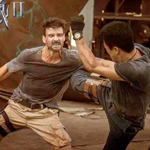 (also being called WOLF WARRIORS II)
Some time in the last year or two I saw WOLF WARRIOR, the 2015 sophomore directing vehicle of martial arts star Wu Jing (KILL ZONE 1 and 2, FATAL CONTACT), but I barely remember it. Scott Adkins was the mercenary villain, and I remember it was cool to see him play a bad guy in a Hong Kong movie again, and that their fights were pretty good. But otherwise the movie made such little impression that I didn't even feel like I had enough thoughts about it to write a review.
But now there's a WOLF WARRIOR II and it's such a big deal in China that it has already beaten THE MERMAID's record as their highest grossing film ever. And rather than making us wait for it to come over here later, they have it playing at the AMC theater downtown. Meanwhile, some people on Twitter were talking it up, and promised me that they enjoyed it without having seen the first one, so I decided to give it a shot. (read the rest of this shit…)
VERN has been reviewing movies since 1999 and is the author of the books SEAGALOGY: A STUDY OF THE ASS-KICKING FILMS OF STEVEN SEAGAL, YIPPEE KI-YAY MOVIEGOER!: WRITINGS ON BRUCE WILLIS, BADASS CINEMA AND OTHER IMPORTANT TOPICS and NIKETOWN: A NOVEL. His horror-action novel WORM ON A HOOK will arrive later this year.