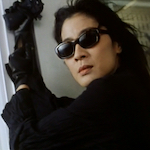 You know who's always good? Michelle Yeoh. Have you noticed that? I guess you have. This one is from 1994, her followup to the classic WING CHUN, and it's directed by the great Ching Siu-Tung. He had recently been her director for HEROIC TRIO 2 and action director for BUTTERFLY AND SWORD, THE HEROIC TRIO and HOLY WEAPON. The title presumably refers to the special forces team of six men and one woman introduced on dirt bikes chasing a gang of armed robbers through a farm. A guy is dragged through a pile of pig shit. The woman fires an arrow from a musical instrument and it goes all the way through a guy's leg. One bike drops through a farmhouse ceiling. A guy runs through a pen full of ducks but gets hit in the head by a flying hammer.
All if this is great, obviously, but Michelle Yeoh is not one of these wonder people. The one female is Hilary Tsui (SHAOLIN POPEY), who apparently is playing "Tiny Archer." The men on the team all kind of blend together to me. Kent Cheng (AH KAM) is the only one who really stands out visually, but unfortunately according to IMDb his character is called "Fatty." Oh well – in ONCE UPON A TIME IN CHINA he played "Porky Wing," and in IP MAN 2 and 3 he's "Fatso" (Ip Man calls him "Bob" in part 4 though).
Yeoh plays Jing, a cool-sunglasses-wearing woman the Wonder Seven run into beginning with two separate incidents: (read the rest of this shit…)
VERN has a new action-horror novel out called WORM ON A HOOK! He has been reviewing movies since 1999 and is the author of the film criticism books Seagalogy: A Study of the Ass-Kicking Films of Steven Seagal and Yippee Ki-Yay Moviegoer!: Writings on Bruce Willis, Badass Cinema and Other Important Topics as well as the crime novel Niketown.