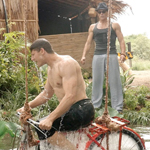 In this age of reboots one thing I didn't see coming was a respectful attempt to resurrect the magic of KICKBOXER. Produced by Cannon when Jean-Claude Van Damme was still a new star, the original is a seminal film in the foundation of the western-star martial arts movie. Part of the beauty of the era it helped ignite was its disposability; there was such a hunger for this stuff on VHS that they kept churning out KICKBOXERs and BLOODSPORTs and BLOODFISTs with whatever Next Jean-Claude Van Damme they could get. And the combination of these basic story formulas and the appeal of seeing thick-accented martial artists try to act cool between flying kicks made for many enjoyable evenings for people all around the world.
Things have changed. Far fewer straight up action movies are made than in the '80s and '90s, and viewing them is not as common of a ritual for young people growing up. The fringe market of DTV has mostly shifted to VOD, a riskier business model since people actually have to watch the movies for them to make money. So, weirdly, this new KICKBOXER (released to VOD on Friday) was made with care, in hopes of people liking it. You can tell they're genuinely trying to recapture what was fun about those movies, but in a modern context – by which I only mean it has nice digital cinematography of sunny Thailand and many of the opponents are played by famous UFC fighters. (read the rest of this shit…)
VERN has a new action-horror novel out called WORM ON A HOOK! He has been reviewing movies since 1999 and is the author of the film criticism books Seagalogy: A Study of the Ass-Kicking Films of Steven Seagal and Yippee Ki-Yay Moviegoer!: Writings on Bruce Willis, Badass Cinema and Other Important Topics as well as the crime novel Niketown.