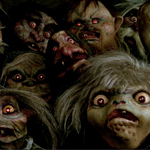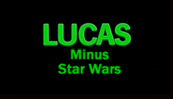 Jennifer Connelly's first movie was Sergio Leone's ONCE UPON A TIME IN AMERICA (as the young version of Elizabeth McGovern's character). Her first starring role was Dario Argento's PHENOMENA, aka CREEPERS. Then she did some normal teen movie, but the one after that was LABYRINTH, directed by Jim Henson, where she's co-starring with David Bowie and about a hundred different puppets. That's a crazy career already, years before she got an Oscar.
This one is pretty different from the Argento one. Yes, she still communicates with bugs, because there's a worm in one scene who gives her a helpful tip and invites her in to meet his wife. But there's no monkey going nuts with a straight razor, and no Goblin. Just goblins.
She plays Sarah, a teenage girl who one day during a bratty fit about having to babysit says some fantasy nonsense that actually summons goblins to take away her toddler brother Toby. Whoops. To get him back she has to make it through a labyrinth to the Goblin King (Bowie)'s castle in 13 hours. Except for the king, the goblins and the inhabitants of the maze are all puppets and special effects creations. Designed by artist Brian Froud (like Henson's previous movie, THE DARK CRYSTAL), they still have cartoonish looks and personalities, but with more realistic texture and detail than Muppets. They seem like closer relatives to Yoda than to Cookie Monster. (read the rest of this shit…)
VERN has been reviewing movies since 1999 and is the author of the books SEAGALOGY: A STUDY OF THE ASS-KICKING FILMS OF STEVEN SEAGAL, YIPPEE KI-YAY MOVIEGOER!: WRITINGS ON BRUCE WILLIS, BADASS CINEMA AND OTHER IMPORTANT TOPICS and NIKETOWN: A NOVEL. His horror-action novel WORM ON A HOOK will arrive later this year.