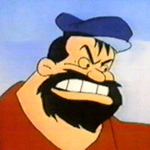 You wanna REALLY outrage your parents, kids? Take them to see Bully. Don't ask me how you get them to go to the arthouse theater to see an unrated movie, that's your job.
"Mom, this movie is what my generation is about, and I want you to understand." Trust me, that's what you should say.
This kind of seems like a love it or hate it movie, except I'm not sure which side I'm on. It's an ugly, violent, nihilistic, pornographic, cynical story about unsympathetic, idiotic, pot smoking, acid sucking, trick turning, nymphomaniac, sadomasochistic teens in Florida who decide to kill their asshole friend. (read the rest of this shit…)
VERN has been reviewing movies since 1999 and is the author of the books SEAGALOGY: A STUDY OF THE ASS-KICKING FILMS OF STEVEN SEAGAL, YIPPEE KI-YAY MOVIEGOER!: WRITINGS ON BRUCE WILLIS, BADASS CINEMA AND OTHER IMPORTANT TOPICS and NIKETOWN: A NOVEL. His horror-action novel WORM ON A HOOK will arrive later this year.