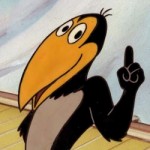 Hey, everyone. "Moriarty" here with some Rumblings From The Lab.
If you haven't checked out VERN's website yet, follow the link at the bottom of his story. He's a serious sumbitch, and he deserves your attention. And, no, he didn't threaten to shank me unless I gave him a good intro. With a pen this sharp, who needs a toothbrush with a razor melted into the tip?
Hey boys it's me, Vern. Remember I am the ex-con who has done a couple reviews for you, etc. I Write in the vernacular and then about 75 people complain about it in talkbacks. But as an acclaimed Writer on the films of Cinema I THINK a motherfucker knows what he's talking about. (In this case me being the motherfucker.)
So I haven't been in touch with you boys in a while but here's what's up. I got hold of a copy of THE CROW: SALVATION which is part 3 for the Crow series. Miramax made this picture and dumped it off in one theater in Spokane, Washington or somewheres. Nobody and their mother saw it so they said, forget it, straight to video for this one. There was some Crow fans on the internet trying to start a petition or something but, fortunately, they failed. (read the rest of this shit…)
VERN has been reviewing movies since 1999 and is the author of the books SEAGALOGY: A STUDY OF THE ASS-KICKING FILMS OF STEVEN SEAGAL, YIPPEE KI-YAY MOVIEGOER!: WRITINGS ON BRUCE WILLIS, BADASS CINEMA AND OTHER IMPORTANT TOPICS and NIKETOWN: A NOVEL. His horror-action novel WORM ON A HOOK will arrive later this year.